I have known Joy for quite a few years, in fact we were neighbors for a while when I was first married, almost 8 years ago! She has made some of the most beautiful cakes for events I have held that not only looked amazing, but tasted wonderful as well! Last week I took my mini me over to joys gorgeous baking kitchen to get a few tips, mayyyyybe try a few samples and snap some photos of her dazzling cakes!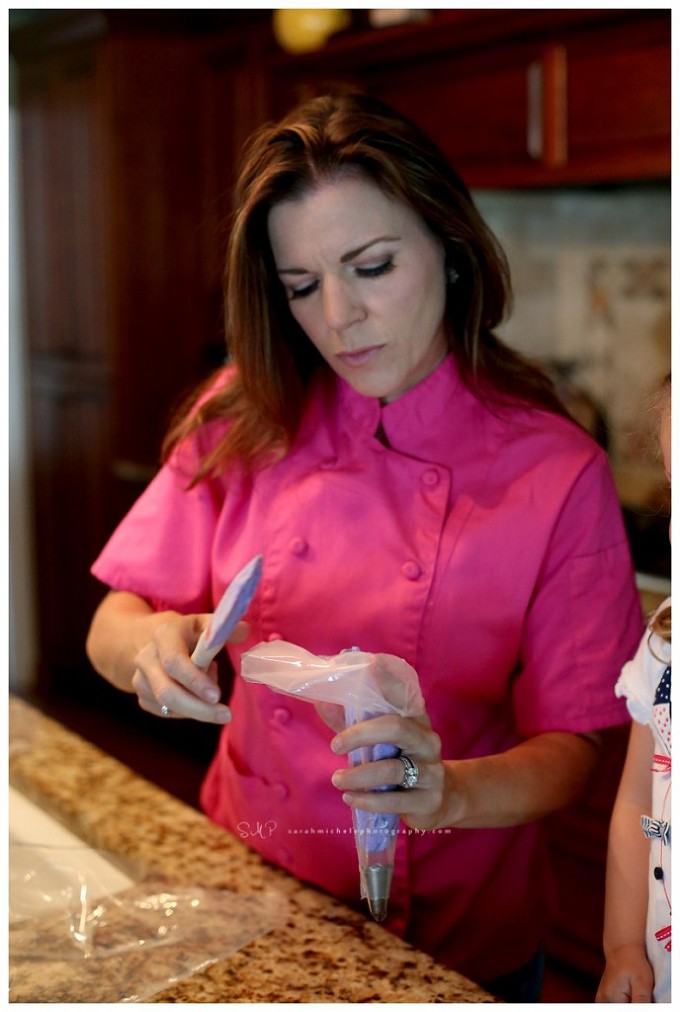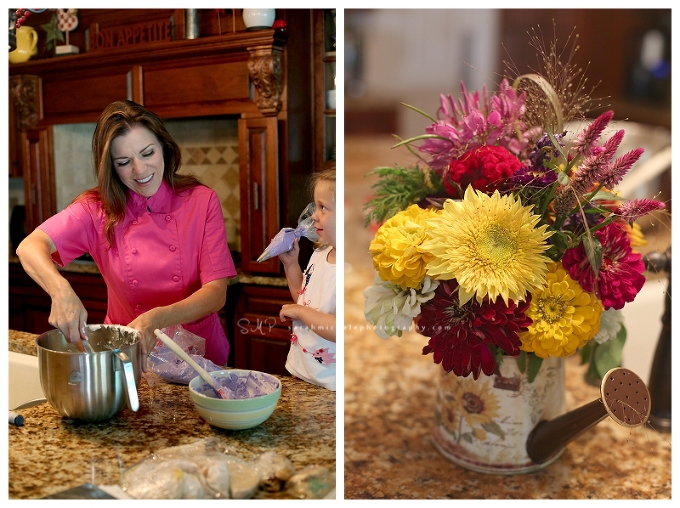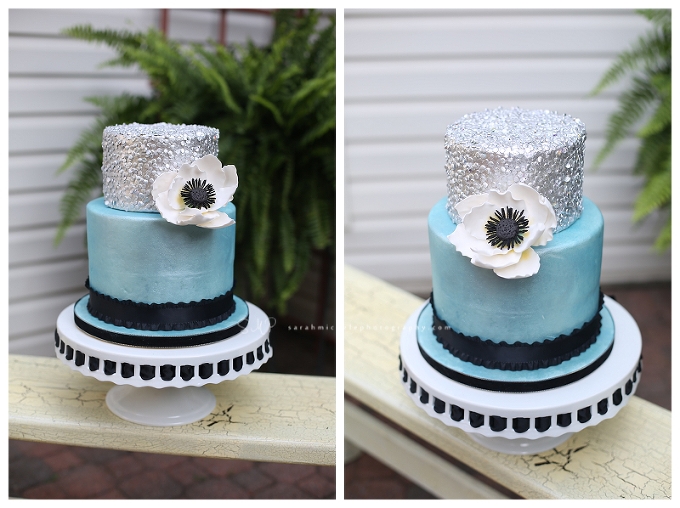 1)      Tell us a bit about yourself, and your family.
I am married to a wonderful, loving man, Kevin, and we have four beautiful children (Amber 16, Ben 14, Sam 9, and Jack 6).  I love being married and I love being a mama.  (That's what my kids call me, Mama).  We live in Severn and attend a local church.  Most of my family lives in Edgewater, just 25 minutes from my house.  Most of my husband's family lives within a 5 mile radius of our home.  We love being surrounded by family.  In fact, every other year, we all vacate together down in Florida.  About 50 of the cousins, aunts, uncles, grandmothers, and children gather during a two-week period and hang out on the beach together.  It is my favorite vacation.
2)      tell us how Sweet Treats came to be, why cake?
When my daughter was 12 yrs old, she wanted to take some cake decorating classes that were being taught at Michael's craft store.  I knew that it would be a great way to spend some one-on-one time together, so I signed us up to take classes.  After the initial set of classes, we signed up for the next series, then the next series.  After four series of classes, my daughter lost an interest in decorating and I thought, "Oh boy, I've spent so much money in supplies.  I'd better sell a cake or two to help pay for supplies that I've bought."  After decorating a few cakes and after learning some new techniques, I was hooked.  I found myself watching tutorials, taking additional classes and wanting to learn as much as I could about cakes.  Since that time, I have expanded my horizons and decorate cookies.  My kids get excited when I bake sugar cookies because 1) they say it smells like Christmas; and 2) because they know that they get any leftover cookies.  Cookies make such great party favors as well as teacher's gifts during the holidays.
3)      What has been the biggest challenge you have faced in this business so far
The biggest challenge I've faced in business so far is time management.  I decorate cakes while the kids are at school while still running our household.  Between dinner, sports, robotics, and other various school programs, my evenings are full.   Thankfully, my decorating skills are improving and I am becoming quicker with my craft.
4)      what has been the most rewarding?
The most rewarding part of decorating is seeing the customer's face when they receive their cake.  I am very critical of my own work and I am hard on myself.  But when the customer sees their cake and is beside themselves with excitement, I can't help but feel like a superhero.  Where's my cape??
5)      Tell us about a funny mishap, whoops moment, or all around funny story
My biggest whoops moment was with a wedding cake that I was decorating.  I'd covered the whole cake in white chocolate ganache and had four beautiful tiers.  I placed each tier on the counter to harden up (which takes hours if working at room temperature).  It was a beautiful day outside and even cool, but the sun was shining brightly that day.  I ran out to run a few errands.  When I'd returned home, I walked over to the cake tiers to check on them and realized that the sun had been shining through the window…directly onto my cakes.  One whole side of the chocolate-covered cake had melted.  It looked like a candle had melted all over the table.  I laughed, took the chocolate off and re-covered it with new chocolate.  I've been told that being a good decorator means that one can fix or cover their mistakes.  This was very fixable.  And, I learned my lesson…keep all cakes AWAY from any window.
6)      What is it that drives your passion in this business
What drives me in my passion for decorating is my love for food.  I've always loved learning about food and for years, I have read cookbooks.  I could sit for hours and read about food (what flavors go well together, certain spices, etc.).  When it comes to decorating, there are so many techniques used that I feel like I could read tutorials and take classes for years and still not have a good grasp on everything.  Times change, techniques change, my skill improves.  I'm constantly looking and learning new ways of decorating and I'm fascinated by each and every one.
7) What is your favorite holiday and why
My favorite holiday is definitely Thanksgiving!  Hands down, the best holiday.  I love it because the seasons are changing and there's an excitement in the air with Christmas being just around the corner.  But my main reason for loving Thanksgiving so much is because it is a time to get together with family and enjoy one another's company…and good food.  There is no expectation with regards to gifts, there's no tight schedule to keep.  My husband's family gets together at a large hall and each family brings their "specialty" dish.  It's buffet style and some might cringe at that, but I love it because everyone brings the best-of-the-best with regards to their contribution to the table.  The food is delicious, and I love to eat good food!  After the meal, we all sit around, talk and laugh while the kids run around spinning in circles because of the sugar rush from the dessert table.
8) If I ran into you on a saturday afternoon what would you be doing?
If you ran into me on a Saturday afternoon, I would either be putting the final touches onto someone's cake.  My Thursday, Fridays and Saturdays are my busiest days of the week.  My Monday is like anyone else's Saturday.  Monday is my day to catch up on everything else (groceries, laundry, etc.).  My Saturdays are usually taken up with decorating.  But, if I'm not decorating, I'm hanging out with my family.  We do everything together and we spend a lot of time together.
9) what are your three favorites
My three favorite things would be:  1) Shoes, 2) The beach; and 3) Donuts.  Anyone who knows me knows that I love shoes, especially high-heeled shoes.  Shoe shopping is so much fun for both me and my daughter who has recently discovered her love for heels.  The beach?  Who doesn't love that?!  The sound of the ocean waves, the giggles coming from the kids having fun, the constant breeze.  Just thinking about it makes me smile.  Lastly, donuts.  Yep, you read it right, donuts – especially from Carlson's Donuts in Severn.  They are by far, my favorite food.  Don't get me wrong.  I love lobster, shrimp, steak, and crab, but I'd give them all the boot for a French Crueller from Carlson's.
10) give us an at home tip step by step.
Everybody loves cupcakes.  They're quick and easy.  But why not give them a cool and colorful twist?  It's easy and I'll explain how.
You will need: –
Cupcakes –
Large icing bag (can be purchased at any store that carries crafts… i.e, Walmart, Michaels) –
Tip #1M (can be purchased at Walmart or Michaels) –
Buttercream icing (any recipe will do) –
Food coloring
Place your tip onto your icing bag by cutting off the tip of the bag and inserting the tip down inside the bag.  Be sure that you cut your bag just to fit the top 1/3rd of the tip through the hole.   Next, divide your icing into two separate bowls.  Add your food coloring to your icing to make your desired colors.  In my bowls, I used white in one bowl and purple in the second bowl.  Simply take a scoop of one color of the icing and try to make sure that the icing lays on one side of the bag.  On the other side, you will put a line of icing of your remaining color.   Try not to mix the colors in the bag.  Gather the bag in your hand, twist the top to close the bag.  When you push on the bag to pipe out the icing, the colors will mix on their own and you will have a swirled effect on your icing.  It's quick, it's easy and it will make you look and feel like a pro.
Check out other fabulous cakes from joy HERE